Tacit Growth Strategies (TGS) is a leading management consulting firm and cutting-edge project management office (PMO) that serves both the public and commercial sectors. Our team provides expert process, results-oriented consulting services with broad capabilities in project management, information systems, nonprofit administration/leadership/management, and grant/proposal writing and management to individuals and organizations seeking financial, operational & leadership optimization and success.
 
We help our clients address their toughest challenges and navigate minute and/or significant pressures to deliver projects efficiently, effectively, and reproducibly with the internationally-informed gold standard of Project Management.  At Tacit Growth Strategies, we are in the business of giving back.
Through our partner network the Women in Business Cluster (Virtual Industry Cluster) promoted by Global Council for Cluster Excellence and Research and Global Council for The Promotion of International Trade (GCPIT) in association with Tacit Growth Strategies, we inspire, encourage, and support organizational champions, where we connect and grow specialists irrespective of titles, industries, or geographic locations.
Tacit Growth Strategies, LLC Receives 2023 Best of San Antonio Award
San Antonio Award Program Honors the Achievement
SAN ANTONIO March 24, 2023 — Tacit Growth Strategies, LLC has been selected for the 2023 Best of San Antonio Award in the Information Services | Project Management Office (PMO) category by the San Antonio Award Program. 
To strategically grow a network of better business. 
At TGS, we speak to our associates, consultants and clientele with care, respect and divulge details and other need-to-know information safely and with confidentiality.
At TGS, we lead projects, programs, and portfolios understanding that differences among people, with regard to their intellect, form, and disposition, should be accepted and celebrated, rather than simply tolerated, when and where feasible and necessary.
At TGS, we bring our authentic selves to work. In doing so, we value respect, vulnerability and compassion for the circumspect growth and sustainability of our firm and our clientele.
At TGS, we are goal and results-oriented. We value human capital and focus our interactions with internal and external stakeholders for systemic buy-in.
At TGS, we operate with integrity first and foremost. We value our relationships and prioritize truthfulness and truth seeking, trust, fairness, and sincerity.
"The training provided by Tacit Growth Strategies was phenomenal!  The fundamentals training provided the shared foundation we were looking for while simultaneously empowering every member of our team to embrace project management tools and techniques.  Our team can't wait to implement the knowledge gained.  Would definitely recommend TGS for your project management training needs."
Katie Ramirez, M.S. (she, her, hers)
Director of Career Services
Interim Director, Center for Experiential Learning and Career Success
Trinity University | 210.999.8321
Strategic | Futuristic | Achiever | Focus | Relator
Slide 1
Subscribe to the Podcast
Real Management Talk with LJ and Jocelyn is your one stop place for everything nonprofit organization business. This is advice and consultation that they have given to their clients, governments, and community groups for years and you get an inside seat.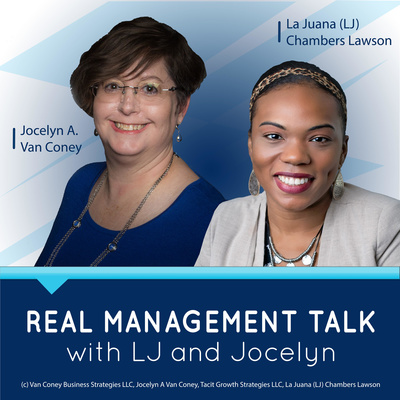 Seen in O, The Oprah Magazine, Entrepreneur, Forbes, San Antonio Business Journal and more, Tacit Growth Strategies is an internationally awarded project management office (PMO) and management consulting serving the public and private sectors in the United States, Canada and Mexico.
We pride ourselves on being a one-stop-shop for all things grants, impact investment and project management.
At Tacit Growth Strategies, we give our clients peace of mind as we help them stay focused on doing what they do best. Give us a call or send us an email to learn more at 210-446-9628 or [email protected].
Interested in pitching your business or pursuing business mentors?
Tacit Growth Strategies (TGS), LLC
8620 North New Braunfels Ave. Suite 521
San Antonio, TX 78217
(210) 904-0457